Hopscotch TADASANA Litter
Date of Birth: January 17th, 2020
Sire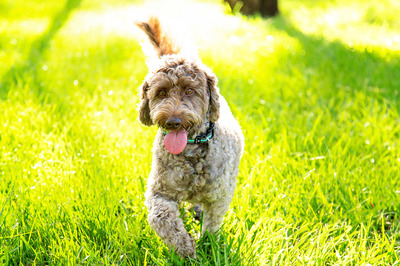 View Profile
WALA Scale: MULTIGEN ALD
MULTIGENERATIONAL AUSTRALIAN LABRADOODLE
Orivet GENO PET 5.0 DNA BREED IDENTIFICATION PROFILE:
37.5% Toy Poodle / 25% Miniature Poodle / 12.5% Standard Poodle / 12.5% Labrador Retriever / 12.5% Cocker Spaniel
Orivet GENO PET 5.0 HEREDITARY DISEASE DNA TEST RESULTS
CLEAR of all 180 Known Screenable Canine GENETIC Diseases (as of April 2020)
Hip Score: OFA is in the range of GOOD - EXCELLENT
[Penhip Score owned & withheld by Resigned ALA member Barbara Wearing, GAGA Labradoodles]
Dam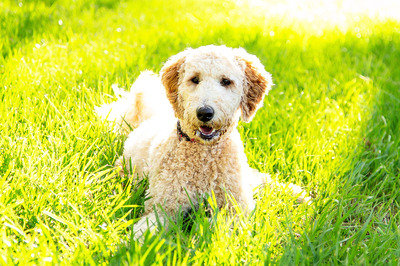 View Profile
WALA Scale: Foundation ALD
FOUNDATION AUSTRALIAN LABRADOODLE
BELLA LABRADOODLES - Michael Lakic BIN0000489964358
AAPDB 16219 - RETIRED BREEDER
Orivet GENO PET 5.0 HEREDITARY DISEASE DNA TEST RESULTS
CLEAR of all 180 Known Screenable Diseases (as of Dec 2019)
BVA Hip Score: 1 + 1 = 2 [Excellent] ELBOWS: Nil
Orivet GENO PET 5.0 DNA BREED IDENTIFICATION PROFILE:
50% Standard Poodle / 25% Labrador Retriever / 12.5% English Cocker Spaniel (Sporting Breed) / 12.5% Toy Poodle
Offspring
About this Litter:
Both Parents have outstanding temperaments & genetic health.
Current pups will fall within the MEDIUM size range & generationally described as Australian Labradoodle ALD (WALA Scale)
All COATS are allergy friendly, non-shedding FLEECE and pups range in a variety of COLOURS - caramel, chocolate, cream, gold & black.
The litter has already progressed through the first stage of Puppy Culture 'neural stimulation' practice and all the pups are thriving nicely.
Now at 3 weeks of age the pups have transferred to the "crèche" - which is the centre of our home & family activity.
The pups are demonstrating confident and relaxed exploration of each other, new stimuli added daily to their subtlety changing environment and are greeting we humans joyfully.
They will be ready for new homes a couple of weeks before Easter holidays (Saturday 14th March) - making great timing for settling into their new family homes.
Previous Litter, Same parents:
All Pups have outstanding temperaments, a big win for our breeding selection.
They all have silky soft fleece coats thrown in the following colours; caramel, chocolate, caramel cream & black.
Two pups were purchased by school teachers and are pursing careers as therapy/reading dogs.
See previous "Epicurean" litter for an idea of how the current litter of pups will look as they age.
I'm in contact with all first litter pup owners, and I'm sure if you would like to query their experience with Hopscotch and/or their new companions - they would happily oblige.